Renewal of Vows Wedding
If you need a simple romantic wedding anniversary gift idea, give your wife (or husband or parents) a very special gift: a vow renewal at our wedding chapel! Renew wedding vows at an affordable, intimate venue for just the two of you, then go out for a great meal. It's like the romantic elopement you never had. Or, invite your family to be your witnesses. If you have children, you can incorporate them into your wedding vow renewal. You can go "all out" and invite dozens of friends as well, then have an anniversary party celebration in our wedding banquet room venue afterwards! Have a surprise anniversary gift party for your parents on their silver 25th, 40th or 50th golden wedding anniversary (in Golden!) and we'll arrange it all: a renewal of vows in our beautiful historic wedding chapel followed by an ultra-convenient catered (or self-catered) on-site reception in our wedding banquet venue. Full-service wedding and reception or do-it-yourself wedding renewal, you choose.
Usually, a renewal of wedding vows ceremony is almost exactly like a wedding ceremony, except at the beginning where the wedding officiant says "…as you renew your vows of marriage before this company." Vows are repeated, rings are put on (or you may prefer to simply hold hands and repeat your ring pledges without ever removing them), and at the end we "recognize you as husband and wife."
Renewing marriage vows can turn a vacation into a destination wedding! It's incredibly romantic. It can deepen your lifelong bond, and remind you again of why you got married in the first place. When you first shared your wedding vows, you could not have known the depth of the meaning behind them. Now you have lived these vows for years, and your commitment to one another has been a bridge to carry you across the difficult times as well as an opportunity to deepen in your love. Saying your vows again, years after your wedding day, you find that the meaning of those vows has deepened; now they are informed by all the hills and valleys you've traveled through together.
Some people dig up their original vows or even their entire ceremony; others just use one of our standard wedding ceremonies. Either way, you'll find it's a powerful experience.
How to Renew Wedding Vows:
My wedding day was really complicated. Do I have to go through all that planning again? No! You don't have to fit into your old wedding dress either. Tuxes are optional. Just dress nicely, come on in "as you are," face one another, and let our minister guide you through. It's much more relaxed the second time!
My spouse and I are having marital problems. Can a wedding vows renewal help us? Not in and of itself, of course. And we always advise that if you're going through a rough patch, don't surprise your spouse by just driving up to Foothills Chapel. We have had some couples in crisis agree to renew vows together, and it gives them a chance to look at the big picture, and be reminded of how they felt when they first got married. But if there's work to be done in your relationship, this is no shortcut.
We had a Justice of the Peace wedding and we still want a ceremony with friends and family. Great! You can do that affordably. The ceremony will be beautiful. Invite a few dozen family and friends for a relaxed reception afterwards if you'd like.
I can't imagine taking off my ring, even for a moment. No need to. If you prefer, you can just hold hands and repeat after the minister, "I give you this ring as a pledge of my love and as a symbol of our unity."
What kinds of vow renewals have you seen? Usually around people's anniversaries. Some people just come in with no guests. We take a few pictures and they're on their way to a nice nearby restaurant. Others invite a dozen or so family members, or their kids. Still others make it a joyous prelude to a big anniversary party. They are often organized by the husband (which is why we keep it simple!), sometimes by the kids for a Golden Anniversary party.
Call 303-986-2022 to arrange your renewal of vows at a location of your choosing!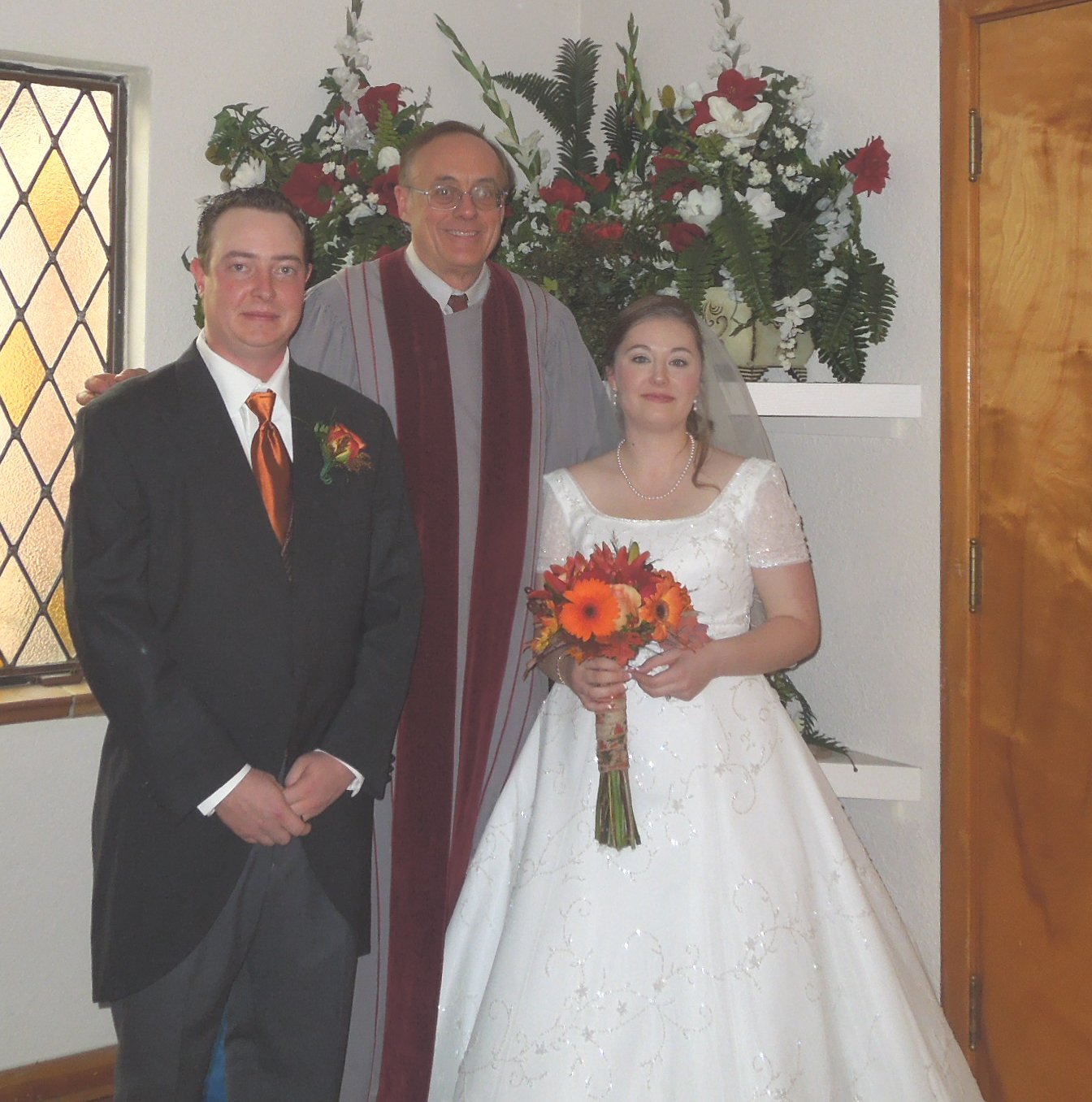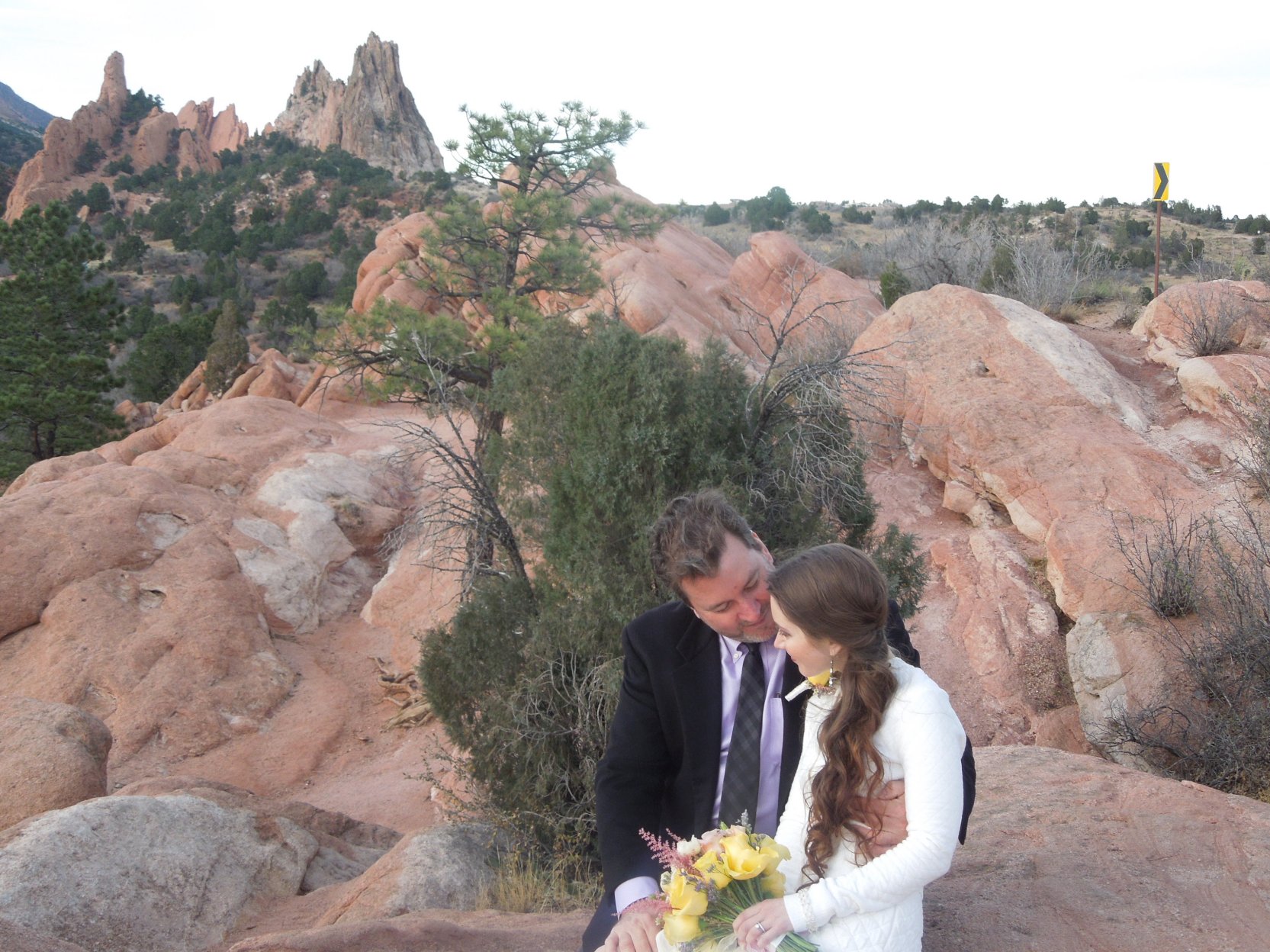 Classic Renewal of Vows Stories
The Golden Anniversary
The 40 year old daughter of a couple coming up to their 50th wedding anniversary decided to throw a renewal of vows anniversary party for her parents. I was getting ready for the ceremony. A very old woman approached me and introduced herself: "I am the mother of the groom, and I have a few words I'd like to say in the ceremony." Remember, the "groom" was almost 80 years old.
So after the vows and rings were exchanged, I invited the "groom's" mom up to the altar. She looked straight into the eyes of her daughter-in-law and said, "You know, I never did like you. I thought you came from a bad family, that you would bring my son nothing but misery, and that the marriage would never work out. Well, I was wrong. Welcome to the family, honey!"
———————————
50 Vow Renewals in 50 States
Couples often come alone to renew their vows, combining the ceremony with a Colorado vacation. This couple came from the East Coast to celebrate their 10th anniversary. "We renew our vows in a different state every year and then make a vacation out of it. This is our tenth year in a row renewing our vows. By the time we have our golden anniversary we will have renewed our vows in all 50 states!"
"Really," I asked, obviously impressed. "Which states have you been to so far?"
"We've renewed our vows in Hawaii, California, Alaska, Washington, Florida, Oregon, Utah, New York, Maine and now Colorado!"
"You should be mixing in Mississippi, Alabama, Arkansas and some of the less glamorous states. There are great things in all 50 states to see. Besides, you don't want to end up in your least favorite state for your 50th!"
—————————
Surprise Renewal
Our carpet cleaner had had our wedding with us three years before and he wanted to renew his vows. He came over to our place with his wife, dressed in a suit but also bringing along his carpet cleaning equipment! His wife was completely fooled and burst into tears when she realized why he was so dressed up for a "carpet cleaning job."