Affordable Quinceanera ceremony traditions and themes (in English y Espanol)
Affordable Quinceanera ceremonies and traditions for 15 year old Latina young women, complete with tiara, last doll, quinceanera cake, themes and other traditional elements. The minister for the ceremony is nondenominational. The birthday girl can have a Spanish language ceremony or speaking in English or a little of both!
Information here is collected from the Internet.
What is a Quinceanera?
The Quinceanera or Quinceaneros is, in some Spanish-speaking regions of the Americas, a young woman's celebration of her fifteenth birthday, which is celebrated in a unique and different way from her other birthdays. In some countries, such as Puerto Rico or Peru, the word Quinceanero is used instead of Quinceanera when referring to the celebration.
The word is also used to refer to the young woman whose 15th birthday is being celebrated. The closest equivalents to the Quinceanera in the English-speaking world are the sweet sixteen or, in more affluent communities, a debutante ball at the age of eighteen. In some cases, the birthday girl has a choice of a quinceanera, a trip, or a car.
Celebration
This celebration marks the transition from the childhood to womanhood. It serves as a way to acknowledge that a young woman has reached maturity.
While this traditional celebration is still practiced nowadays in Latin America and Latino communities in North America, it is sometimes observed by other events that focus more on the quinceanera's wishes (e.g. world traveling). However, in some cities the Baile de las Debutantes (Debutantes' Ball) is also celebrated.
Some other traditions observed in the celebration include the giving and throwing of a quince doll. The display doll signifies the young lady's last doll as a child and the throwing doll, usually a Barbie type or any other is fine too, is thrown by the young lady to the other female children in attendance much as the garter is thrown in a wedding. The celebrant is wearing flats, or flat shoes for the celebration but after the inaugural dance the father of the young lady, who is sitting in a chair in the center of the dance floor, removes her flats (girls shoes) and puts her high heels on signifying her becoming a young lady.
The traditional color of a quinceanera's dress is pink but now in modern cultures the guest of honor picks the color of the dress. She also wears a tiara because she is a princess in God's eyes that night. She holds a court with 14 girls (damas) and 15 boys (chambelanes) which including herself would equal 30 people, or, 15 couples (to represent each year). At the party the court does a waltz and a surprise dance. The girl also dances with her father but first changes from flats to heels to represent the first time she can wear them (the same with makeup). She could also get a doll with the exact same dress she has on to signify that this will be the last doll she ever will receive. In the past the party would show the girl is ready to be married, but now in today's culture it is so the girl can date.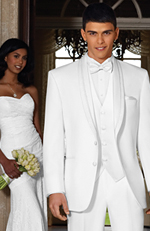 Ceremony Outline
1) Entrance Procession
2) First Reading
A Reading from the Book of Jeremiah
The word of the LORD came to me thus:
Before I formed you in the womb I knew you,
before you were born I dedicated you, a prophet to the nations,
I appointed you.
This means that long before you were born, God knew you as a person. Before you were born He dedicated you; He knew you would have a special mission with your own family and friends. He knew the influence you would have on others. He knew you would speak honestly and truthfully.
3) Second Reading
"Ah, LORD GOD!" I said"I know not how to speak; I am too young"
This is true. You don't know how to speak at times so that you may be understood and appreciated. You are too young, but you have something to offer: Your love, your youth, your hope, your trust, your honesty.
But the LORD answered me.
Say not. "I am too young"
To whomever I send you, you shall go:
whatever I command you, you shall speak.
You speak from your experiences. You must speak about what you believe in; what you hope for, what you love.
"Have no fear before them, because I am with you, says the LORD."
Do not be afraid, God who has given you life is and will be with you. He will be present to be your Strength, your Courage, your Hope. He will always be with you.
Then the LORD extended His hand and touched my mouth, Saying, See I place my words in your mouth!
Third Reading: from Paul to the Corinthians
If I speak with the human tongues and angelic as well, but do not have love, I am a noisy gong, a clanging symbol. If I have the gift of prophecy and, with full knowledge, comprehend al mysteries, if I have faith great enough to move mountains, but have not love, I am nothing. If I give everything I have to feed the poor and hand over my body to be burned, but have not love, I gain nothing. Love is patient; love is kind. Love is not jealous, it does not put on airs, it is not snobbish. Love is never rude, it is not self-seeking, it is not prone to anger; neither does it brood over injuries. Love does not rejoice in what is wrong but rejoices with the truth. There is no limit to love's forbearence, to its trust, it's hope, its power to endure.
This is the Word of the Lord.
Dedication Ceremony – Lighting of the Candle
The Quinceanera's Prayer of Dedication
I offer you, O Lord, my youth. Guide my steps, my actions, my thoughts. Grant me the grace to understand your new commandment to love one another, and may your grace not be wasted in me. I ask you this through Jesus Christ, your Son, our Savior and Redeemer.
Oh, Mary, my mother, present my offering and my life to the Lord: by my model of a valiant woman, my strength and my guide. You have the power to change hearts: take mine then and make me a worthy daughter of yours. Amen.
Blessing of Gifts:
Lord, bless this Bible, rosary, cross, medal, flowers, all these things which we bless in your name that they may be a source of joy for (name) in her journey to you. Through Jesus Christ our Lord.
Presenting of the Gifts
Presentation of the Bible and Rosary (with admonition from minister)
Acceptance by the Community (applause)
Expression of Gratitude by parents
All go to Mary's altar for dedication and to give thanks (the quinceaneras place the candles back on the alter, take the bouquet of fresh roses, and go to Mary's altar with their parents.)
4) Prayer
5) Final Blessing and Recessional
Final Blessing:
(Name), may the Lord bless you and keep you. R. Amen.
May he let his face shine upon you and be gracious to you. Amen.
May he look upon you kindly and give you his peace. Amen.
And may the blessing of almighty God, Father + Son and Holy Spirit, descend upon you and remain with you forever. Amen.
May he free you from all anxiety
and strengthen your heart in his love. R. Amen.
May he enrich you with his gifts of faith, hope and love,
so that what you do in this life
will bring you to the happiness of everlasting life. R. Amen.
And may the blessing of almighty God
the Father and the Son, + and the Holy Spirit,
descend upon you and remain with you forever. Amén.
Dismissal (The minister may invite the quincea era and her parents for a picture before the dismissal.):
With the joy of this day, go in the peace of Christ to love and serve the Lord. R. Thanks be to God.
There are some aspects that are common to all Quinceaneras.
Two little kids are chosen to carry the pillows. The boy carries a pillow with the shoes, her first high heels, and the little girl carries a heart-shaped pillow with the crown.
tiaraThe most symbolic act during the Quincea era is the changing of the shoes. The girl's father switches her shoes, from the flats she arrived in, to the high heels she will leave in. Shoes and crowns play a pivotal role in the birthday girl's transformation in the eyes of the community from girl to young woman.
At the fiesta, the father dances with his daughter and then the mother takes her and dances with her until they get to the make-believe throne. The crown is put on her head by the mother, and when the girl is sitting, the father comes and takes off her sandals and puts on the high heels. Then the father takes his princess out to dance again and from there the party continues.
Maintaining tradition takes work and Panchita does what she can to make a girl's sweet fifteenth birthday a special one, including working closely with the girl and her family.
Traditional Gifts
1. Traditional Gifts to the Quinceanera have special meaning for the celebration, and their honored significance relates to the Quinceanera's coming of age. The Traditional Gifts are special signs of loyalty and commitment to God, family and the community. Where the celebration includes the Mass of Thanksgiving, the gifts are presented to the priest for special blessings.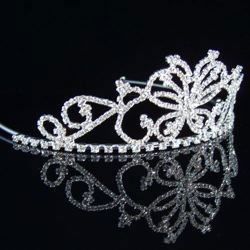 TIARA
Denotes a "princess" before God and the world; a triumph over childhood and ability to face the challenges ahead.
BRACELET or RING
Representing the unending circle of life, it symbolizes the unending emergence of the young woman's abilities and future contributions to society.
EARRINGS
A reminder to listen to the word of God, and always hear and respond to the world around her.
CROSS or MEDAL
Signifies faith – in God, in herself, and in her world.
BIBLE (or PRAYER BOOK) & ROSARY
Important resources to keep the word of God in her life.
In some Hispanic cultures, the gifts are given to the Quinceanera by "padrinos" (also called godparents or sponsors) specially chosen by the family. The padrinos who give the Traditional Gifts are formally recognized, and often are part of the procession for either the church or reception ceremony, or do the presentation of the gifts to the priest for the blessing.
The TIARA also plays a role in the actual Quinceanera ceremony. It is traditional for the headpiece worn by the Quinceanera to be ceremoniously replaced with the TIARA. The "crowning" is done either by her parents or the godparent presenting the gift. A scepter is also presented to the Quinceanera at the same time. The scepter, being an emblem of authority, signifies authority (and responsibility) now being given to the young woman for her life. This ceremony usually takes place at the reception.
The Traditional Quinceanera Gifts are the distinctive, precious treasures for the ceremony; a cherished custom that highlights the Quinceanera celebration.
Prayers of the Faithful:
Loving Father, with (name) in this celebration of her fifteen years of life, we offer these sincere prayers:
1. For our bothers and sisters who live in poverty, that we might help one another and that civil authorities might concern themselves for the most vulnerable among us, we pray to the Lord.
2. For (name), who thanks you for the gift of life, and for all our young people that they might always honor their parents and be protected by God, we pray to the Lord.
3. For the parents and sponsors of (name) and for those who have guided and helped her, we pray to the Lord.
4. That our young people discover their vocation and have the courage to follow it, we pray to the Lord.
5. For our deceased relatives, that they might rest in the peace of Christ, and receive the reward of eternal life, we pray to the Lord.
7. In a moment of silence, we remember our personal intentions (pause for ten seconds), we pray to the Lord.
Gracious Father, you always love us, your children. Listen to the needs we present to you, asking the intercession of the Blessed Virgin Mary and all the saints. Through Jesus Christ our Lord who lives and reigns with you in the unity of the Holy Spirit, one God forever and ever. Amen.
Espanol
Quinceanera ceremonias y celebraciones de 15 a os para las mujeres jóvenes latinas, con tiara, última mu eca, y otros elementos tradicionales. El ministro para la ceremonia es nondenominational o puede llevar un sacerdote católico a oficiar. El cumplea os de una ni a puede tener en espa ol ceremonia o haciendo uso de la palabra en Inglés o un poco de ambas! Foothills Capilla para bodas iglesia es un perfecto ajuste. Tiene una capacidad para 200 personas, y tenemos una peque a sala de banquetes para que la parte de abajo que tiene 80.
Aquí se recoge la información en Internet: Introducción, Celebración, Esquema de la Misa y Lecturas, Regalos.
Introducción
Quincea la época o un quince os (a veces representadas XV A os, es decir, "quince a os") es, en algunas regiones de habla espa ola de las Américas, una mujer joven de la celebración de su décimo quinto cumplea os, que se celebra en un lugar único y diferente manera otros de su cumplea os. En algunos países, como Puerto Rico o Perú, la palabra Quincea ero se utiliza en lugar de Quincea época al referirse a la celebración.
La palabra se usa también para referirse a la joven cuyo 15 º aniversario se celebra (similar a la palabra era para cumplea "chica de cumplea os"). El equivalente más cercano a la Quincea era en el mundo de habla Inglés son los dulces dieciséis, o en las comunidades más opulentas, un debutante pelota a la edad de dieciocho a os. En algunos casos, la ni a tiene un cumplea os de una elección quincea época, un viaje, o un coche.
Celebración
Esta celebración marca la transición de la infancia a la mujer. Sirve como una manera de reconocer que una joven ha alcanzado la madurez.
Si bien esta celebración es tradicional todavía se practica hoy en día en América Latina y las comunidades latinas de América del Norte, a veces es observado por otros eventos que se centran más en la época quincea deseos (por ejemplo, viajar mundo). Sin embargo, en algunas ciudades el Baile de las debutantes (debutantes' Bola) también se celebra.
Algunas otras tradiciones observadas en la celebración incluyen la entrega y lanzamiento de una mu eca de membrillo. Mu eca de la pantalla indica el joven de la última mu eca como un ni o y la mu eca de lanzamiento, por lo general una Barbie o de cualquier otro tipo está muy bien también, es lanzada por la joven a la otra asistencia a las ni as en la liga más que se lanza en una boda . El celebrante lleva apartamentos, planos o zapatos para la celebración de la ceremonia de inauguración, pero después de bailar el padre de la joven, quien está sentado en una silla en el centro de la pista de baile, elimina sus pisos (zapatos de las ni as) y pone sus zapatos de tacón que significa en su convertirse en una jovencita.
El color tradicional de una quincea era el vestido de rosa, pero ahora en la moderna cultura invitada de honor recoge el color del vestido. Ella también lleva una tiara, porque ella es una princesa a los ojos de Dios esa noche. Tiene un corte con 14 ni as (damas) y 15 varones (chambelanes), que ella incluida la igualdad de 30 personas, o, 15 parejas (para representar cada a o). En la fiesta el tribunal hace un vals y una danza sorpresa. La chica también baila con su padre pero en primer lugar los cambios de pisos a los talones para representar la primera vez que ellos pueden usar (con la misma composición). Ella también podría tener una mu eca con la misma vestimenta que ha de significar que esta será la última mu eca que nunca va a recibir. En el pasado, la parte que muestran a la chica está dispuesta a casarse, pero ahora en la cultura actual, es por lo que la ni a puede fecha.
Ceremonia Esquema
1) Procesión de entrada
2) Primera lectura
Lectura del Libro de Jeremías
La palabra de Jehová vino a mí por lo tanto:
Antes de que me formó en el vientre te conocí,
antes de que usted naciera he dedicado a usted, un profeta a las naciones,
Nombré a usted.
Esto significa que mucho antes de que usted naciera, Dios sabía que usted como persona. Antes de que usted naciera Dedicó usted; Él sabía que tendría una misión especial con su propia familia y amigos. Él sabía la influencia que tendría sobre los demás. Él sabía que harían uso de la palabra honesta y veraz.
3) Segunda lectura
"¡Ah, Se or Dios!" He dicho
"No sé cómo hablar, estoy demasiado joven"
Esto es cierto. Usted no sabe cómo hablar a veces, para que pueda ser comprendida y apreciada. Usted es demasiado joven, pero tiene algo que ofrecer: su amor, su juventud, su esperanza, su confianza, su honestidad.
Pero Jehová me respondió.
Decir no. "Yo soy demasiado joven"
A quien le envío, usted deberá ir:
lo que yo te mando, que se hablan.
Usted habla de sus experiencias. Usted debe hablar acerca de lo que creen en, lo que esperamos, lo que amas.
"No tengas miedo delante de ellos, porque yo estoy con vosotros, dice Jehová".
No tenga miedo, que Dios te ha dado la vida es y será con usted. Él estará presente para ser su fuerza, su coraje, su esperanza. Él siempre estará con usted.
Entonces Jehová extendió su mano y tocó mi boca, diciendo: Ver hago mis palabras en tu boca!
Tercera lectura: de Pablo a los Corintios
Si hablo con lenguas humanas y angélicas, y, pero no tengo amor, soy un ruidoso gong, un clanging símbolo. Si tengo el don de la profecía y, con pleno conocimiento, al comprender los misterios, si tengo la fe suficiente para mover monta as, pero no el amor, nada soy. ¿Si le doy a todo lo que tengo para alimentar a los pobres y entregar mi cuerpo para ser quemado, pero no el amor, de nada me sirve.
El amor es paciente, el amor es amable. El amor no es celoso, no poner en aires, no es snob. El amor nunca es grosero, no es egoísmo, no es propensa a la ira, ni la cría más de las lesiones. El amor no se alegran de lo que está mal, pero se alegra con la verdad. No hay límite en el amor del forbearence, a su confianza, su esperanza, su capacidad de soportar.
Esta es la Palabra del Se or.
Ceremonia de entrega – Iluminación de la Vela
Quinceanera de la Oración de Dedicación Te ofrezco, oh Se or, mi juventud. Guía de mis pasos, mis acciones, mis pensamientos. Dame la gracia de comprender el nuevo mandamiento de amarnos unos a otros, y puede que tu gracia no se desperdician en mí. Le pregunto esto a través de Jesucristo, tu Hijo, nuestro Salvador y Redentor.
¡Ay, María, mi madre, mi presente y mi vida ofreciendo al Se or: por mi modelo de una valiente mujer, mi fortaleza y mi guía. Usted tiene el poder para cambiar los corazones: tomar las minas y luego me hacen una digna hija de la tuya. Amén.
Bendición de los regalos:
Se or, bendice esta Biblia, rosario, cruz, medallas, flores, todas estas cosas que nos bendiga en su nombre que puede ser una fuente de alegría para (nombre) en su viaje para usted. Por Jesucristo nuestro Se or.
Presentación de los dones
Presentación de la Biblia y el Rosario (con la advertencia de la ministra)
La aceptación por la Comunidad (aplausos)
Expresión de gratitud por parte de los padres
Todos van a María de la dedicación y el altar para dar gracias (el lugar quinceaneras las velas sobre el altar, tome el ramo de rosas frescas, y vaya a modificar de María con sus padres.)
4) La oración
5) Bendición final y Recessional
Bendición final:
(Nombre), que el Se or te bendiga y te guarde. R. Amén.
Mayo dejó brillar su rostro sobre ti y ser amable con usted. Amén.
Que él mira a usted amablemente y le dará su paz. Amén.
Y que la bendición de Dios todopoderoso, Padre, Hijo + y Espíritu Santo, descienda sobre vosotros, y permanecer para siempre con ustedes. Amén.
Mayo, libre de toda ansiedad
y fortalecer su corazón en su amor. R. Amén.
Que él enriquecer con sus dones de la fe, esperanza y amor,
de modo que lo que haces en esta vida
le llevará a la felicidad de la vida eterna. R. Amén.
Y que la bendición de Dios todopoderoso
el Padre y del Hijo + y del Espíritu Santo,
descender sobre vosotros, y permanecer para siempre con ustedes. Amén.
Despido (El Ministro podrá invitar a la quincea era y sus padres para una foto antes de que el despido.):
Con la alegría de este día, ir en la paz de Cristo a amar y servir al Se or. R. Gracias a Dios.
Hay algunos aspectos que son comunes a todas las épocas Quincea.
Dos ni os peque os son elegidos para llevar las almohadas. El ni o lleva una almohada con los zapatos, sus primeros zapatos de tacón, y la ni a con una almohada en forma de corazón con la corona.
TiaraEl acto simbólico más Quincea durante la época es el cambio de los zapatos. El padre de la ni a de los interruptores de sus zapatos, desde los pisos de su llegada en los zapatos de tacón a ella dejará pulg Zapatos y coronas desempe ar un papel central en el cumplea os de la transformación de la ni a a los ojos de la comunidad de ni a a mujer joven .
En la fiesta, el padre baila con su hija y luego la madre la lleva y baila con ella hasta que lleguen al hacer-creer trono. La corona se coloca en la cabeza por la madre, y cuando la chica está sentada, el padre llega y se quita sus sandalias y pone en alta talones. Entonces el padre toma a su princesa a bailar otra vez y, desde allí, el partido continúa.
Mantener la tradición de trabajo y Panchita se hace lo que puede hacer una ni a de quince a os dulce especial, incluyendo el trabajo de cerca con la ni a y su familia.
Regalos tradicionales
1. Regalos tradicionales de la quincea era tiene un significado especial para la celebración, y su honor se refiere a la importancia Quinceanera la mayoría de edad. Los regalos tradicionales son especiales signos de lealtad y compromiso con Dios, la familia y la comunidad. En caso de que la celebración incluye la misa de acción de gracias, los dones que se presentan a los sacerdotes para las bendiciones.
TIARA
Denota una "princesa" ante Dios y el mundo, un triunfo sobre la infancia y la capacidad de hacer frente a los retos futuros.
BRACELET o ANILLO
En representación de la interminable círculo de la vida, simboliza la incesante aparición de la joven y la capacidad de las futuras contribuciones a la sociedad.
EARRINGS
Un recordatorio para escuchar la palabra de Dios, y siempre escuchar y responder al mundo a su alrededor.
CRUZ o MEDALLA
Significa la fe – en Dios, en sí misma, y, en su mundo.
BIBLIA (o Libro de Oración) y ROSARIO
Recursos importantes para mantener la palabra de Dios en su vida.
En algunas culturas hispánicas, los dones son dados a la quincea era por "padrinos" (también llamados padrinos o patrocinadores) especialmente escogido por la familia. Los padrinos que dan los regalos tradicionales son formalmente reconocidas y, a menudo, forman parte de la procesión, ya sea para la iglesia o ceremonia de recepción, o la presentación de los dones para el sacerdote para la bendición.
El TIARA también desempe a un papel en la ceremonia de Quinceanera. Es tradicional para el casco usado por el Quinceanera ceremoniosamente a ser sustituido por el TIARA. La "coronación" se puede hacer por sus padres o el padrino de la presentación de regalo. Un cetro también se presenta a la quincea era al mismo tiempo. El cetro, que es un emblema de la autoridad, significa que la autoridad (y responsabilidad), ahora que se está dando a la joven por su vida. Esta ceremonia tiene lugar en la recepción.
La Quinceanera Regalos tradicionales son el distintivo, un tesoro para la ceremonia; un valioso costumbre que destaca la celebración de la quincea era.
Oraciones de los Fieles:
Padre amoroso, con (nombre) en esta celebración de sus quince a os de vida, ofrecemos estas sinceras oraciones:
1. Por nuestra molesta y hermanas que viven en la pobreza, para que podamos ayudarnos unos a otros y que las autoridades civiles puedan ocuparse de los más vulnerables entre nosotros, oramos al Se or.
2. Para (nombre), quien le da las gracias por el don de la vida, y para todos nuestros jóvenes que puedan honrar siempre a sus padres ya ser protegido por Dios, oramos al Se or. 3. Para los padres y patrocinadores de (nombre) y para los que han guiado y ayudado a ella, oramos al Se or.
4. Que nuestros jóvenes a descubrir su vocación y tener el valor de seguirlo, oramos al Se or.
5. Para nuestros parientes, que puedan descansar en la paz de Cristo, y recibir la recompensa de la vida eterna, oramos al Se or.
7. En un momento de silencio, nos acordamos de nuestra intenciones (pausa de diez segundos), oramos al Se or.
Padre amable, siempre nos amó, a sus hijos. Escuchar a las necesidades que presentamos a usted, pidiendo la intercesión de la Bienaventurada Virgen María y todos los santos. Por Jesucristo nuestro Se or, que vive y reina contigo en la unidad del Espíritu Santo, un Dios para siempre jamás. Amén.