The professional wedding service people and Colorado wedding venues on the following list are well-established and offer reasonable prices and excellent service. Their prices may have changed since the last update, so please confirm all prices when you call.
  Tuxedo
Denver Tux 2680 Youngfield Street, Lakewood, CO 80215
(303) 238-3332
Great prices and selection in Colorado. Convenient too. We'll measure you, set up a try-on session, and return the tuxes to the warehouse for you. Groomsmen out of town? No problem: they can provide measurements and we'll have their tuxes waiting for them. Order through us directly; to see our selection visit https://denvertux.com
Musicians
Live music adds so much to a wedding, especially with the very talented musicians listed below. Estimated costs include twenty minutes of pre-ceremony, music for the entrance of your bridal party and for you, a song during the ceremony (usually during the unity candle lighting), and music for your and your guests' exit. Please check with musicians to confirm costs; they set their prices and these are only our estimates. It is not necessary to have professional musicians attend your rehearsal. You may also wish to have a musician at your reception, perhaps for background music during the meal.

Organ/Piano

Alfred Born, organ ($130) 303-984-7464
Guitar

Alex Komodore, classical/popular guitar ($190) 303-722-4707

String Quartet

Musical Moments ($450, 1st hour, $300 additional hours for four players; variable prices for string duo or trio)
303-526-2979

Hammered Dulcimer

Bonnie Carol, folk musician ($180)
303-258-7763

Bagpiper/Classical Guitar

Michael Lancaster, 303-765-1245
www.bagpipersinternational.com
DJs
Quality Mobile Sound ($500-$700)

Ken 303-682-5242

Center Stage Entertainment

Paula Warnick

720-989-5785 www.dj-center-stage-entertainment.com
Florists
Country Club Flowers
3434 E Colfax Ave Denver
Phone 303-399-3838
www.countryclubflowers.com

Amore Fiore Michelle Stefanon, owner
303-333-3848
Photographers
Laura Main, Modern Image Studios

303-916-3560 www.modernimagestudios.com

Nicole Nichols Photography
720-470-9849 nicolenicholsphoto.com

Randall Olsson Photography
303-279-2774 www.randallolsson.com

Barry Staver Photography
Pulitzer Prizewinner, 303-880-8063

Autumn Burke Photography

720-344-0710 www.autumnburke.com

Hardy Klahold Photography

720-936-8076 www.hardyklaholdphotography.com
Videographer
Mares Productions

303-918-7725 www.maresvideoproductions.com
Budget Caterers
Relish (Tom or Karen)
303-727-9200 www.thefoodguy.net

Pan Fired Catering
Jean Lyman Event Specialist, 303.422.3982
www.panfiredcatering.com

A New Taste Sensation

Chocolate Fountains

720-205-0568 www.anewtastesensation.com
Wedding Cakes
Elegant Bakery
3278 S. Wadsworth Blvd. Unit 3
303-322-7708 www.elegantbakery.com

Das Meyer

13251 W 64th Ave
Arvada, CO 80004
Phone number (303) 425-5616
https://dasmeyerpastry.com

The Makery

8203 S. Holly St. Centennial
720-270-4042 www.themakery.com
Officiants
Revs. Chris, Karen Mohr 303-279-2152

https://coloradoweddingceremonies.com/wedding-ministers/
Rev. Kim Tavendale, 720.432.1650
Rev. James Harris 303-979-5570
Rev. Beverly Fest, Methodist 303-494-4246
Limousine
Jay's Valet & Limousine Service (Pedicabs too!), (303) 777-5297

jaysvalet.com Valet/Limo/bus/Pedicab Bachelor/Bachelorette Parties, Weddings. I can even do a wedding on a pedicab or in a limo/bus!

Excursion Limousine, 303-832-0820
Classic Rolls Royce, stretch limo, limo bus
Horse and Carriage
Denver Carriage ($200) 303-870-4721 303-271-1065
Dance Lessons for Your Wedding Reception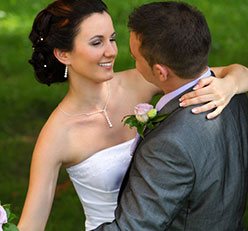 Adventures in Dance, 1500 W. Littleton Blvd, #207 (east entrance at strip mall) Littleton, Phone: 720-276-0562
Email: info@adventuresindance.com
Adventures In Dance laser targets your comfort zone to develop into your confident first dance, so you can dance happily ever after. https://www.adventuresindance.com/wedding-dance-instruction/
Indian Hindu Wedding Information
         303-279-2152  www.foothillschapel.com/ceremony/hindu-wedding-ceremony.htm
Best Colorado Wedding Venues/Reception/Lodging Facilities
Here are some Colorado and Front Range venues. We are not familiar with all of these places; those we most strongly recommend have some description included:
Golden Hotel
800 11th Street at Washington in Golden
Golden, CO 80401
Golden's newest facility, holds 200, plus abundant hotel space (303) 279-0100
www.golden-hotel.com

Golden Community Center
1470 10th Street
Golden, CO 80401
Very convenient, beautiful facility, holds 200+
(303) 384-8100

Table Mountain Inn
1310 Washington Avenue
Golden, CO 80401
Golden's finest mid-priced restaurant, delicious southwestern cuisine, can serve 200. Table Mountain Inn is also a great place to put upout-of-town family, with genuine hospitality and southwestern decor at its finest.
(303) 277-9898
www.tablemountaininn.com

Rolling Hills Country Club
15800 W. 32nd Ave, Golden
Holds 200 people. Ask for Kathy.
(303) 279-3334

Colorado School of Mines
16th & Cheyenne
Main reception facility holds 100-500 ($750-$1350); Student Center
holds 50-200 ($300-$600).
(303) 273-3460

Dove Inn Bed and Breakfast
One of our favorite local B&B's, 120 year old house, warm hospitality,
delicious breakfasts
711 14th St. in Golden 303-278-2209

Day's Inn (lodging plus small hall)
15059 W. Colfax Avenue
Golden, CO 80401
(303) 277-0200

Denver Marriott West
Great food, service: 1717 Denver West Boulevard
Golden (303) 279-9100

Courtyard Marriott
14700 W. 6th Ave. (small meeting room avail for rehearsal dinners & small receptions) 303-215-9218

Ramada Hotel
14707 W. Colfax Avenue
Golden, CO 80401
(303) 279-7611

Hampton Inn
17150 W. Colfax Ave.
121 rooms, meeting room holds 100 people.
(303) 278-6600
www.hamptoninn.com

Sheraton Denver West Hotel & Conference Center
360 Union Boulevard
Lakewood, CO 80228
(303) 987-2000
www.sheraton.com

American Mountaineering Center
710 Tenth Street, Golden holds 150+
Phone 303-384-9146

VFW Hall, 15625 W. 10th Avenue,279-2119

Briarwood Inn
1630 8th Street (Highway 6 & Highway 58)
Golden, CO 80401
Golden's most elegant restaurant, can serve 80+ comfortably in a separate room (303) 279-3121 or www.thebriarwoodinn.com

Summit View (formerly Lunnonhaus)
17600 W. 14th Ave., Golden (off Old Golden Rd.)
Holds 150 in newly-renovated clubhouse with wrap-around balcony, full
kitchen, wet bar. Self-catering OK. (303) 278-9525

Holiday Inn
14707 W. Colfax Ave., Golden. Holds 250. Ask for Jennifer. (303) 279-7611

Raintree Plaza, Longmont 303-776-2000, www.raintreeplaza.com

Chautaqua, in Boulder park, 303-443-3901, www.greatfoodcdh.com

Lodge & Spa at Cordillera, 970-569-6214

Mile High Station, 2027 W. Colfax, 720-946-7721

Chateaux at Fox Meadows, Broomfield 303-466-8078, www.chateauxatfox.com

Wellshire Inn, 3333 So. Colorado,303-759-3480, www.wellshireinn.com

Mile High Station, 2027 W. Colfax 720-946-7721, www.milehighstation.com

Metropolitan Event Center, 12000 Zuni Street, 303-301-7230

Lodge & Spa at Cordillera, 970-569-6214, www.cordillera-vail.com

Foothills Art Center
809 15th St. in Golden
A church building turned into an art center, holds 150, limited availability, no sit-down dinners, no dancing. (303) 279-3922

Buffalo Rose and Rose's Restaurant
1119 Washington Ave. Golden
Golden's cheapest venue, Buffalo Rose bar/grille holds over 200 (smoking
OK), Rose's Restaurant holds 80 (no smoking, separate facility). Friendly
service, basic food. (303) 278-6800

The Fort
19192 Highway 8
Morrison, CO 80465
Unique western decor (literally an enclosed fort), entertaining service, unusual and delicious food. (303) 697-4771 or www.thefort.com

Arvada Center for the Arts & Humanities
6901 Wadsworth
(303) 431-3080 extension 4

The Studios at Overland Crossing https://StudiosatOverlandCrossing.com

2205 So. Delaware St. Denver 80223 Phone 720-206-7657

Right next to Evans/Santa Fe Light Rail, holds 250+, Historic!
     A few blocks west of Golden, 19th Street becomes Lookout Mountain Road, a stunning 2000′ ascent on a well-maintained paved route to the summit. Near the top and in other foothills locations nearby are several fine reception facilities, including:
Wedding Gown Preservation
Gold Label Cleaners and Restoration Labs
        303-948-2600 www.goldlabelcleaners.com
Bridal Consultants
Mark Paquette, Mark Christopher Weddings
https://www.markchristopherweddings.com/
A Touch of Bliss: Nine wedding planners statewide
https://www.touchofblissevents.com/
Calluna Events Planners along Boulder and the Front Range
https://www.callunaevents.com/
Exquisite Designs by Cherice
Cherice Steinhour, Professional Bridal Consultant™
303-912-9917 www.designsbycherice.com
Weddings By Norie
Norie Hamilton, Accredited Bridal Consultant™
303-452-4802 www.weddingsbynorie.com
Other Links
Wedding Zone – the Ultimate Wedding and Party Planning Site!
This cool nationwide webzine and directory of wedding and party services will
help you find everything you need to make your wedding ceremony and
wedding reception an unforgettable event!
YourBridalPlanner.com– Local wedding vendor reviews and information.