Weddings for Army, Navy, Air Force, Marines, Coast Guard, National Guard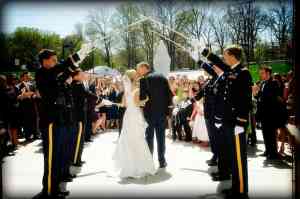 If one or both of you are active duty or Honorably Discharged from the U.S. Military or various security organizations, thank you for your service! We do offer a 5% discount on our suggested donation by request, as a small gesture of our appreciation for the sacrifices you have made for all of us. There are some very important considerations for your military wedding ceremony that Revs. Chris and Karen Mohr are sensitive to as officiants. We have some military wedding ideas and information we'd like to share with you here.
Planning a Wedding in Three Days
Military personnel are sometimes called to duty at very short notice. If you or your fiancé is facing a sudden deployment, we have organized full-scale weddings and receptions with three days' notice, and elopements with an hour's notice.
Day One: Call us at 303-986-2022 and we will get the venue, the officiant, the catering, photographer/videographer etc. lined up. As soon as we confirm the venue and time, you call or email everyone on your guest list. Try to find a best man and maid of honor to hold your bouquet and your rings.
Day Two: Meet with or phone the wedding vendors and officiant to decide on the ceremony, the food, the cake, etc. Get the marriage license from the County Clerk or DMV ($30 cash). Buy a nice wedding dress "off the rack." Rent tuxes or iron your dress blues. Pick up rings, even inexpensive "temporary" ones if necessary.
Day Three: The Wedding!
We have done this many times for active duty military, and you would be amazed how beautifully it all comes off. We know people who are happy to take care of all of this on very short notice; you'll be surprised at how little stress you'll have on the day of your wedding. Mostly you and your guests will be amazed at what you have pulled off!
Advice: If either of you is facing a possible deployment, go ahead and make your regular wedding plans, but be sure you ask in advance if venues and wedding service people will give you a refund if one of you is indeed deployed last-minute. Get that promise in writing. Most venues have a no-refund policy on your wedding deposit, but many will make exceptions in this circumstance.
Rev Chris Mohr and Military History
Back in the 1980s, when the Lowry Air Force Base was still open in  Denver, Rev. Chris Mohr performed dozens of weddings for active  duty military at their Eisenhower Chapel. General and President  Eisenhower attended services at this chapel in the 1950s.
Revs. Chris and Karen Mohr also used to own Foothills Chapel in  Golden, which has a  rich military history dating from WWII. That  church was originally  built at Camp Hale near Leadville by Lutheran  prisoners of war in  1943. It was then brought down to Golden, parts of  the old facility used to build the new church in 1947. A Navy  shipbuilder used the techniques he learned during the war to create  soaring arches for the ceiling that looked like the hull of an upside- down ship (Noah's Ark).
Social Protocol for Military Ranks
Military ranks from Junior Enlisted, Senior Enlisted, Warrant Officers, Company Grade Officers, Field Grade Officers on up to General Grade Officers command respect even at social occasions such as wedding receptions. Revs. Chris and Karen Mohr recognize the difference between the stripes of an enlisted person and the bars and medals of an officer. We make a point of asking family members and friends in uniform what their rank is, and thank them for their service.
The traditional way to name the bride, groom or guests from the military on invitations and placecards: for officers, rank before name; for enlisted no rank listed, just their branch of service
Acknowledge commanding officers and chiefs at your reception. Reserve a table for them, close to where the family sits.
Privacy and Respect
If you or your fiancé have access to classified information in either a military or civilian capacity, you may need to have your privacy respected. For some people that means no Facebook posts, no Pinterest, no tweets, no photography by the guests, etc. Your hired photographer must be willing to give you all negatives and digital images for your private use only. Everyone needs to understand not to spread photos or other information around.
Generally we discourage boutonnieres on uniforms because the military considers them inappropriate.
CIA and other top-secret personnel do not appreciate oily packages, wires, and other things that may come as gifts. Revs. Chris and Karen Mohr will keep their cars clear of anything that could be construed as possibly dangerous.
Honor Guards, Swords
Ask your commanding officer about an Honor Guard and archway of swords for the bride and groom to walk through together. Generally, this requires at least one month's advance notice. Generally, swords and other weapons are discouraged or forbidden in churches. If you are renting a chapel and the sword is a part of your dress uniform, ask the proprietor if this is allowed.
Revs. Chris and Karen Mohr have always supported our men and women in uniform by being extra-flexible with scheduling, last-minute cancellations and delays due to sudden deployment, and informal counseling for military brides whose wedding plans have been turned upside down days or weeks before their scheduled ceremony. This kind of flexibility and understanding is especially important when the bride or groom is in the military in a time of war.
Our Chapel
When Chris and Karen Mohr owned Foothills Chapel from 1996-2013, we learned that our building first started up in a prisoner of war camp near Leadville, Colorado. The German soldiers being housed at Camp Hale were mostly Lutheran, and one of the American captains asked the German POWs if they would be interested in helping make stained glass and lantern-like lights for a new Lutheran Church for the glory of God to be built in Golden after the war. Several of the POWS joined in with the American captain, making this one of the few cooperative ventures between Germans and Americans during World War II. When the war ended, the rest of the church was completed in 1947. A Navy shipbuilder actually created the beams using old shipbuilding techniques, warping them in water just the right amount to give them a perfect curve in the final architecture. The entire top of the church was built to look like the hull of Noah's ark turned upside down!
If you are a military person, thank you for your service. And consider Revs. Chris and Karen Mohr; we will show extra consideration for your special situation. We help you emotionally through the sudden changes because we have seen so many other brides who have had to go through this. We allow the archway of swords (ask at your chapel, too… some churches consider swords weapons and forbid this important military tradition). Call us at 303-986-2022 today and we will help you create the wedding ceremony of your dreams.