English: Welcome to Your Colorado Wedding Ceremony!
Our Wedding Ministers Welcome All Nationalities
We will Help Make Your Wedding Everything You Want it to Be
We have translated the below words into several languages (see our sub-pages to the right)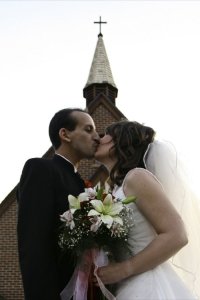 :
Revs. Chris and Karen Mohr officiate authentic, heartfelt mountain weddings at chapels, hotels, homes, banquet rooms, mansions and other venues throughout Colorado! If you are considering having your wedding in Colorado and you or family members do not speak English, we will go out of our way to show you our warm Colorado hospitality. We have greeted families in their native tongues in over twenty different languages, and we have traveled to 40 countries and 15 territories all over the world. We have familiarity with the customs of people from dozens of countries, and will work with you to make everyone feel at home and cared for. Colorado is a beautiful state and your wedding ceremony will be a beautiful blend of American and other traditions. Denver is a very big city with ethnic restaurants and communities from all over the world, so we can help connect you with food and families from your home country if you request it.
We are not fluent in all the languages of the world, but we encourage you to run Google Translate through our website and find out everything you wish to know. We can help with some practical matters as well: hotel recommendations, finding a photographer, a cake baker, a restaurant, a hair stylist and other great people. We promise to take care of you and make everyone feel welcome.
For elegant or simple wedding ceremonies and venues on a budget at your perfect Colorado location, you'll find the information you need at your fingertips right here. Our wedding officiants will provide one-on-one, face-to-face attention, attending to every detail, offering bridal or wedding services. You are free to choose your wedding ceremony, readings, vows, and consultant, sharing with us your wedding vision so we can make all your ideas and dreams come true. Minimize stress and experience a meaningful, heartfelt ceremony. We promise to take good care of you!
Revs. Chris or Karen Mohr and our other affordable wedding ceremony ministers or officiants can help you plan a romantic ceremony at any of the Denver Colorado wedding venues or your own back yard. You'll get free sample wedding ceremony example information for interfaith, traditional, nontraditional, Christian wedding, and civil ceremony options, with wedding ceremony readings, free wedding vows and optional additions, and the best Colorado wedding venue ideas. Our wedding officiators can help you plan beautiful, meaningful ceremonies, personalizing your wedding vows if desired and adding special touches to make your wedding ceremony everything you want it to be. With this wedding officiator web site you can also plan to elope or have a romantic destination wedding, a renewal of vows, or a small or budget wedding; we can easily change the words to suit your occasion.
Phone Now 303.986.2022 info@coloradoweddingceremonies.com